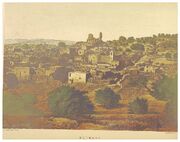 Bethany is a village on the Mount of Olives, less than 2 miles[1] east of Jerusalem. It was the home of sisters Mary and Martha, and Lazarus, who was raised from the dead by Jesus.
Etymology
Bethany (Gr: Βηθανία) is an Aramaic word, בֵּית-עֲנִיָּה, meaning either "house of dates" or "house of the poor". The fact that was to become known for its care for the sick and poor lends support for the latter.
History
The ancient city of Jerusalem was built on Mount Zion, just northeast of the Mount of Olives. From the peak of the latter, a pilgrim coming up from Jericho would get a birdseye view of the temple. Down its eastern slope a town out of view of the capitol was suitable for a place for lepers[2] and tombs[3].
Jesus visited his friends Mary and Martha at their home on a visit to the area near Jerusalem. While Mary sat with her guests, listening to Jesus teach, Martha worked hard getting dinner ready for at least 15 people. When Martha complained, Jesus commended her sister instead[4].
He would return there when he needed refuge from his ministry in Jerusalem. This became a dangerous option the closer he came to the end of his ministry[5]. Nevertheless, he returned to raise his friend from a grave he'd been in four days[6]
Jesus lodged in Bethany during his final days in Jerusalem, and the Palm Sunday procession started out from there[7]. The next day, Jesus taught his disciples a lesson by putting a curse on a fig tree near town[8].
During that week, Jesus was eating in the home of Simon the leper, a neighbor to his friends. Against protestations, a woman anointed his head with a bottle of expensive perfume over Jesus' head[9].
After Jesus had risen, having appeared to his followers,[10] he then led them on the road to Bethany. Somewhere on that road, he blessed his followers, and then rose up into Heaven.[11]
Today the village is named Al-Azariyya which is Arabic for Lazarus. There is a church there called The Church of St. Lazarus, and a chapel called The Chapel of the Ascension.
Verses